How NOT to Advertise Your Yoga Classes if You Actually Want to Attract More Students!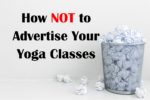 3 common mistakes yoga teachers make – and what to do instead!
How many yoga teachers are there near where you live and want to teach? My guess is, quite a few! Even those of us, like me, who live in a town rather than a big city, will have at least a dozen or so other yoga teachers near them – and it's very easy to let this frighten you into thinking there's just no room for you……..
But that's not true!
That's the story you tell yourself to excuse yourself from getting out there and letting people know you exist!
Over my years of building a business I've learned the power of stories, and how this can not only set you apart from everyone else, but how it actually transforms you into a magnet for the students who resonate with your story.
​So many yoga teachers seem to have what I call a "personality transplant" when they talk about their business!
Let me explain.
Do a google search right now for yoga teachers in your area then take a good look at what's there. Often what comes up first are the yoga directories, to which yoga teachers can submit their information for free, to let people know about their classes, and direct them to their website, if they have one.
All good so far – and I encourage new yoga teachers to get themselves on these directories, because. they DO work, in terms of getting you in front of someone who is right at that moment, specifically looking for a yoga teacher near where they live. You can't get a warmer lead than that!! This is someone who is seriously looking – and ready to give it a go, so it makes sense to make what you write on these sites stand out.
Here's a truth:
Research shows you have 8 seconds or less to spark interest in your yoga classes – whether that's on your website, or one of these directories. So there you are, with a prospective new student, keen to try out yoga, and you might be the perfect fit for them... but the message you put out doesn't tell them that, and they pass you by!
​You just lost a prospective student who might have stayed with you for years!
The mistakes yoga teachers make on directory sites (or even their website) include:
People connect to people who they feel they resonate with. It's all about emotions…. your prospective yoga student has to look at the information about what you offer and think, "Whoah! That sounds like a perfect class for me… let me find out more!"
Your SOLE aim on the first page of your website, or on the directory, is to get them thinking like that, so they click through to find out more, or even better e-mail or ring you.
But if you haven't captured their attention in those first few seconds you've lost them – probably forever. And try to inject some personality into it. I'll talk about this more on another post because it's a really important part of ensuring you resonate with your target audience, but, for now, just know that a resume of your qualifications and some bland generalisations and common phrases about how yoga helps people is simply not good enough to hook them in to wanting to know more.
Take a look at these examples I picked up from a simple search on a yoga directory about teachers near me. This is the exact copy (with the places taken out to retain anonymity) that any searcher would see before they clicked through to learn more:
None of these teachers had a suitable image either.
Can you see how this is just using the rhetoric 90% or more of yoga teachers think they have to use?
Is there anything at all there likely to make someone sit up and feel as though it's talking to them?
Contrast these examples with the teacher who had written this:
Baby bumps yoga: Gentle yoga classes for pregnant women, and new mum and baby.
(And her image was a simple outline drawing of a pregnant bump! Immediately you know who this is for!)
She was the only teacher out of the whole first page (apart from me!) who immediately told the searcher whether her classes were potentially right for them or not!
If you're reading this and realising you've fallen into the same trap – think about how you can speak more directly to your target market. And if you're not sure who your target market is, then you'll find a number of resources and articles to help you with that here: https://yoginiors.co.uk/developing-your-niche/
So make sure the first thing your prospective yoga students see on the directory or your website is what your classes will do for them. I can't emphasise enough how important this is. This is NOT about YOU. This is all about THEM. Put yourself in your ideal student's shoes, and speak directly from your heart to theirs – I promise you, it'll make a massive difference.
If that first impression hits the jackpot in terms of what they are looking for, they'll investigate further, and you're one step closer to an enquiry and a new student.
Good luck!
Actions you can take
Check out other articles around the topic of finding your niche as a yoga teacher, on my blog https://yoginiors.co.uk/developing-your-niche/
Join Yoginiors FB group; share your thoughts on this article and what your niche is!
You'll also get additional tips and answers to any questions you have on any topic around building your yoga business and developing your yoga career as well as free Facebook live trainings. So do join us!