Becoming a Pro Yoga Teacher Isn't Sexy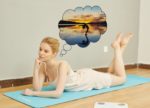 The quickest way to actually pay your bills as a yoga teacher isn't sexy – but it works.
(Want to pay the bills and have a balanced life teaching yoga? Then you need to read this article!)
OK – so perhaps there should be a health warning attached to this article!
It is NOT sexy!
It may not pander to your dreams if you dream of being a yoga teacher rock-star on a rock-star salary! It doesn't paint a "rosy picture" and it won't help make you a well-paid yoga teacher overnight!
But it WILL tell you the truth about building a yoga teacher career that lasts and it WILL tell you the fastest way to get REAL money into your bank account EVERY month, from teaching yoga.
Let me start by telling you a story.
I recently posted in my Facebook community asking if teachers would be willing to admit whether they actually made a profit from their teaching, once all their costs were taken out and accounted for – and if they did, what range of income and profit they managed to make for themselves.
One teacher wrote: "I can tell you exactly how much I make after all costs: NOTHING!"
Her frustration was clear. And I felt for her.
Because, whether we're in a caring profession or not, we still have to live. We still have bills to pay. We still have dreams of being able to make a difference – but if we cannot sustain ourselves, pay our own bills and support our families, we will not be able to continue this for very long. At some point, reality has to kick in, and you need a job which pays the bills!
Come on now – would you expect a nurse, doctor or firefighter to work for no money? The truth is, yoga teachers need to pay the bills like everyone else – unless they are choosing to earn their living elsewhere and this is their "pay it forward" activity.
If you want to make a living from teaching yoga know you need to walk before you can run.
Bright shiny trainings which promise you can earn thousands from high priced signature programmes and online launches have you entering the Olympics before you've even learned the basics!
I've seen claims that you can have £50k months or launches, and have this sexy, balanced lifestyle – maybe working on your lap top from some sun drenched beach location while you have this massive impact helping others. Sounds soooo sexy doesn't it?
And these courses aren't cheap: like your yoga teacher training, you can invest a sizeable pot of your hard earned cash (or your credit card!) on these programmes.
But did you know the industry statistics for yoga teachers who actually finish a yoga business course does not make good reading?
I've had one yoga teacher who confessed to me she'd paid almost $1000 for a yoga business training course and she hasn't even opened the training yet – almost 12 months on!! How crazy is that?
The truth is - if you're struggling to even know how to fill your classes and earn a sustainable £2000 to £4000 PROFIT from your teaching and programmes, with real students face-to-face or in smaller groups, the chances of you being able to reach rock-star yoga teacher income quickly, or even at all - are minimal.
I call this pattern of behaviour, going from one training course to the next in the hope it will help make you successful, "bright shiny object" syndrome.
Some get "buyers remorse" shortly after buying the programme; some ask for a refund a couple of days later; some keep the course and never actually open or finish it! And some finish it, but never really actually get down to taking action on it – for all sorts of reasons I won't go into here – but the end result is still the same: they don't get the results they hoped for.
And let me tell you why – because it is NOT easy, or quick to develop a successful online yoga offering and there are a whole bunch of skills you'll need and actions you're going to need to take in order to make it happen and be successful.
It's like asking a baby to run before it's even learned how to sit up straight or walk!
There's a rite of passage you have to go through first. There are some processes you just can't speed up or cut corners on…you just can't.
The truth is, whilst it may not be "sexy", learning how to walk before you can run, will help you build a business that lasts, build your confidence and allow you time to choose whether you want to go into the "big time" or not.
Don't sacrifice fulfilment for success or success for fulfilment.
Know it's possible to have both BUT there's a rite of passage you need to take to get there.
So what is the quickest way to pay the bills as a yoga teacher?
Understand how to bring in regular income from teaching face to face!
Seriously! I know that's not sexy! But it's SO much easier – and it's SO much quicker than trying to develop a high end signature programme and/or trying to go online…..trust me!
Bringing in regular income from online yoga training of any kind is a VERY slow burn. We're talking months…. maybe even years.
If you need cash NOW so you CAN develop an online offering let's get you with some cash to invest first – instead of using your credit card! (And you will need cash to go online I promise you!)
You could start earning £1500 a month profit quite quickly – within weeks teaching face to face building your own classes.
With a basic or even no website. (Seriously – I'm all for getting you filling your classes and getting that confidence under your belt and the money coming in before spending tons of time and money on a flash website!)
With little effort and not a large spend on advertising. This is money you could use to pay yourself an income and then invest down the line in growing your business – should you choose. (And you may not want to…teaching 9 classes a week and bringing in £35k to £40k isn't a bad business model if you want work-life balance. That's what I do – so I know it's possible.)
Do you need to do some work to make that happen too?
Of course you do!
Do you need to know not only what to do – but when?
Yes!
But the pay-off for that work happens sooner. Much sooner!
Meanwhile, you're finding your feet; learning what works and what doesn't; learning who your "tribe" are and building your confidence.
All the while, paying the bills.
Don't know about you – but I think that sounds quite sexy too!
So if you find yourself being seduced by the idea of earning big bucks as an online yoga teacher, but you haven't even proved you can attract AND keep audience on your doorstep – PLEASE don't fall for the bright shiny object!!
Have you fallen for the bright shiny object?
Join our Yoginiors FB group; and tell us your story. And join a community of yoga teachers who are committed to making a difference to the lives of their students AND putting good money in their bank account each month. You'll also get additional tips and answers to any questions you have on any topic around building your yoga business and developing your yoga career as well as free Facebook live trainings. So do join us!