Diary of a yoga teacher faced with Covid 19; Phase 2: The 4 stages of a yoga business – which stage are YOU?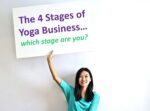 In a previous article I explained why what you focus on, where you direct your energy and invest your time or money, is absolutely critical when it comes to building a steady income from your teaching so you can relax and focus on serving your students and building your business.
I see too many aspiring yoga teachers falling for the "bright shiny object" of teaching online (particularly now – as I write this with the Covid pandemic in full swing) and then getting themselves mired in all the "stuff" they need to do to set this up, or jumping in to devising courses or classes that no-body is signing up for.
It's dispiriting – and easy to think it's your fault.
​​When in actual fact, the reason teaching yoga online is not working for you is NOT because there's something wrong with you….
it's more likely because you're trying to run before you can walk!
​And we all know how that turns out! You fall flat on your face!
I get just a little tired of seeing all these "marketing gurus" selling the "dream" of taking a yoga business online; of developing passive income streams; of selling "high end signature programmes" to yoga teachers who haven't even yet learned how to bring in a steady few hundred a month from their teaching.
In my opinion - it's bonkers!
​What I advocate in terms of your yoga business strategy
may not seem so "sexy"

but it's more likely to help you walk REALLY well BEFORE you run!
You see, earning a regular 6 figures or more, working online or having passive income streams as a yoga teacher IS possible – but believe me – there ain't no shortcut to the process.
If making 6 figures or more from teaching yoga were that easy – EVERY YOGA TEACHER WOULD BE DOING IT! And they're not!
And for some yoga teachers I know, they realise that business model isn't really for them anyhow – they want something different. But it's easy to get caught up in the "sexiness!"
I get it!
I really do!
I just want you to know what you're letting yourself in for.
I also want you to understand WHY you might want the "bigger game" – because – trust me – as a yogi you and I both know it's not all about material wealth right? There HAS to be a deeper motivation – because the amount of work you're going to need to put in will require deep drive!
​There's absolutely NOTHING wrong with deciding you want to just teach a few classes a week so you have time for your kids/partner, hobbies – whatever is important to YOU, yet still be able to generate a good income from teaching 9 or 10 classes a week.
So I'm ALL about clarity.
Clarity in terms of what you REALLY want as a yoga teacher – and why you want it.
Clarity (and honesty) about where you are now and what you're going to need to do and focus on to get to your goal.
And most of all……………………………
Clarity (instead of rose-coloured specs!) about what your choice will entail in terms of your time, energy and money.
So in the interests of clarity, I'd like to share with you what I see as the 4 stages of building a yoga business – from scratch to celebrity/big buck status.
​​4 stages of a yoga business
From "rookie" to "celebrity"

The truth is, recognising the stage of business you're at and using that as your guide about what to focus on first is what will help you gain momentum and confidence far more quickly than trying to jump ahead of yourself too soon.
This is a career……..you CAN'T catapult to CEO on your first day!
Any more than you can do a headstand in your first yoga class (unless you're already a gymnast of course!).
STAGE 1: THE WORLD'S YOUR OYSTER!


Just starting out as a yoga teacher? Fairly new to the teaching world or still just finding your feet and starting to teach the odd class here and there?

Confidence as a teacher still a bit shaky?

Hearing how important "niching" is – but NO clue what yours is?

Or maybe you have a really clear idea of who and what you would like to teach, but you're not sure if your idea will work, and marketing is all new and a bit overwhelming to you?

YOUR GOAL
If this is you focus your efforts on gaining experience teaching; networking with other teachers and studios; connecting with students to help you find your unique value and begin to define your niche.

OR
Get clarity about whether you want to work for others as an employee or start to build a business of your own. If it's the former, then you might still like to move to stage 2 so you build your student following. Gyms and studios are always looking for the teacher who fills their classes and brings in the most business for them!

BEST TACTICS:
Networking; personal introductions and 1-1 conversations to come up with some ideas of who you'd like to serve and what you might offer.

STAGE 2: NAILING YOUR NICHE; FINE TUNING YOUR OFFER AND STARTING TO BUILD YOUR COMMUNITY
Now you've gained some confidence and begun to get a clearer idea of potential niches for you, you're ready to fine-tune your message and the offers you will make to potential students and clients.

YOUR GOALS AT THIS STAGE ARE:
To POSITION yourself in the market place as the yoga teacher who does "x"
To develop specific and clear offers for a CLEAR target market, properly priced.
To fill your first offerings and start generating steady and reliable income.
To start getting new students through referrals.

BEST TACTICS:
Get a SIMPLE website up.
Get on Google my business and other free directories.
Choose ONE platform on social media and start posting regularly.
Start writing articles and blog posts.
Local speaking/meet ups.


STAGE 3: LIST BUILDING AND GROWING YOUR COMMUNITY


I see far too many yoga teachers start at this stage then wonder why it doesn't work!

I also see yoga teachers busying themselves blogging, posting on social media, getting a website done, sorting out a workshop or retreat, advertising, trying to get private clients…..literally feeling like headless chickens with not enough students to pay the bills.

No wonder they give up or think they can't do this – it's all "too hard."

When the truth is, they've just catapulted themselves up a mountain they're TOTALLY

un-prepared for!





If you're not making consistent steady income from your teaching yet

you're not ready to work at stage3! Focus on where the money changes hands: focus on proving you have something people want to pay for.

YOUR GOALS AT THIS STAGE ARE:
Achieving a steady income for at least 3 to 6 months.
Seeing your student numbers grow with not too much paid advertising.
Getting new students/clients from referrals.
To deepen your marketing skills to learn how to scale.

BEST TACTICS:
Expand your offerings – now's a good time to start to consider workshops and retreats.
Review your processes and systems – e-mail system; payment systems; book-keeping;
Possibly getting some support to help free you up to focus on growing the business.
Begin to consider how you can leverage what you do, to stop trading time for money: so looking at online offerings and/or develop higher priced offerings such as Yoga Teacher Trainings or exclusive retreats.
Email marketing.
Testing Facebook advertising.
Starting to write more; newsletters; blogging; Facebook lives; video and video marketing.
Finding joint venture partners for larger projects.

STAGE 4: AUTHORITY AND EXPERT STAGE


Now you've gained a reputation and you never have to worry about filling your classes, workshops, retreats or other face to face offerings. You've perhaps also begun to test the water with making some offers online.

Now is the time to build on this if you want to scale AND start to take your teaching online; so you can work from anywhere in the world, reach and help more people; increase your earning capacity and even stop trading time for money.

YOUR GOALS AT THIS STAGE ARE:
To scale your business.
To reach and help more people than you could face to face.
To increase revenue and the streams of income you have coming in to the business.
To free yourself up to work from anywhere.
To possibly stop trading time for money and generate "passive" income into your business.

BEST TACTICS ARE:
To develop higher priced offerings and "signature" programmes for your top clients/students.
To become far more highly visible through social media; blogging, videos and podcasts.
To write a book or develop very specific courses for your audience.
To look for opportunities to speak.
Press releases.
A Facebook ad strategy and a clear promotional strategy for the next 12 month period.

So, which stage are YOU at right now?
Be honest with yourself.
Don't think you can "cheat" and head straight for stage 3 when you have no clear target market; no loyal community of at least a hundred or more students and you're not making a good profit and income every month.
As one of my own business mentors once said to me – that's going down the marketing rabbit hole! And believe me – it's a pretty deep, black hole.
Use this guide to decide honestly where you're at, and focus on the goals and actions best suited for that stage of business.
I promise you – it will reap FAR more rewards, more quickly.
Good luck!
Are you in our Facebook community?
If you want to join a community of like-minded yoga teachers, determined NOT to let the Covid-19 define or destroy them, make sure you're part of the
Yoginiors Facebook group
, where, over the next few weeks I'll be sharing what works and what doesn't at a time like this.
Actions you can take
Join our FB group; and tell us your story of how you've coped with the Covid -19 crisis. Whether you've successfully transitioned online or struggled, I'd love to hear your stories. They will help others either realise they are not alone or help inspire them to take some positive action to move them forward.
And it will help me understand how to design training that will support you better – so you learn, grow and thrive.